A Full Range of Landscaping Services, Including Fencing & Decking in Croydon, Surrey & South London
---
While our name might suggest we specialise solely in the supply and installation of fencing, we have many strings to our bow. As hard landscaping specialists, we help reimagine outdoor spaces for both domestic and commercial clients in and around Croydon, Selsdon, Warlingham and West Wickham. We do this through the construction of attractive and functional decking, patios, paths, garden buildings and of course, fencing.
Below, we've looked to provide a bit more information about each of these different areas. If you have a project in mind and would like to speak with us, perhaps to book a free site survey and consultation (after which we can provide you with a no obligation written estimate), then pick up the phone and call 07789 897 487. A friendly member of our team will be on hand to advise you.
Our Services Explained
---
Fencing, Gates & Posts
There are two key reasons why Croydon, Selsdon, Warlingham and West Wickham clients look to invest in new fencing; either they're looking to replace tired and uninspiring fencing with something attractive and better suited to their needs, or their existing fencing has suffered damage due to inclement weather or wear and tear over the years. We've found that it's typically wiser to replace damaged fencing than repair it in terms of cost efficiency, although this isn't always the case; we can provide tailored advice following the initial survey should be unsure which route to take.
There are many different styles of fencing, each of which brings something unique to the table:
Horizontal Waney Edged Fencing – The most common fencing option, these feature overlapped boards cut straight from a tree. Resultantly, one side is bark-covered and one is square cut. They're affordable, and provide both privacy and security.
Feather Edge Fencing – Often referred to as closed board fencing, this is seen as a more durable choice than the aforementioned fencing, making it ideal for residents in and around Croydon, Selsdon, Warlingham and West Wickham who want extra security. They're made from tapered boards that are fixed vertically to create a solid fence.
Picket Fencing – If you're looking to mark out a boundary, perhaps to keep pets secure, then picket fencing is ideal. It's cute and quintessentially British, adding value and flair to domestic and commercial gardens throughout Surrey and South London.
Willow/Hazel Hurdel Fencing – Typically employed to add additional privacy to gardens, or to stylishly partition sections of a garden. This form of fencing is also referred to as "weave".
Decorative Fencing – This category takes in everything from lattice to horizontal weave fencing. It's not the best for keeping intruders out, as it usually features unique designs geared toward form rather than function. However, it can completely transform a garden as a centrepiece, or the finishing touch on a wider re-design.
We also install gates and posts of all shapes, sizes and styles.
Decking
---
Looking to establish an outdoor space that's useable all year round? Our hard landscaping team constructs high quality decking that integrates perfectly within your wider garden. Softwood is the more affordable choice, with spruce and pine both fantastic options. Both need to be treated with a wood preservative, and should they be damaged, carefully checked for cuts that could open them up to intrusion from moisture. Cedar is also a great option, due to its natural weather resistance.
Hardwood is becoming increasingly popular throughout our principal service areas of Croydon, Selsdon, Warlingham and West Wickham. Oak, teak, birch, elm, maple and cherry all have their own unique looks, but share two characteristics: strength and durability. When well maintained, hardwood decking can last upward of 25 years. They're fantastic hard landscaping features and long-term investments you can enjoy today.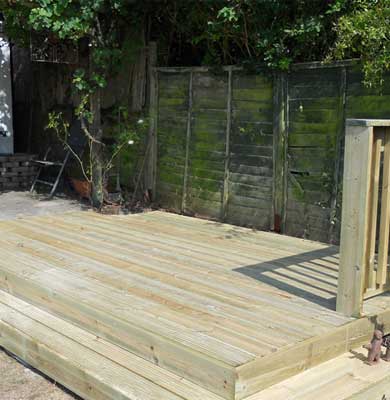 Patios & Paving
---
Like decking, patios and paths can help you get more use out of your garden while simultaneously raising its value. We work with a range of quality materials from trusted sources, ensuring you can find something within your price range that also looks great within your garden. Concrete is especially affordable, and known for its exceptional durability.
If you're looking for something with a slightly more complex aesthetic, sandstone is a popular choice. Stone has its own idiosyncrasies, with "imperfections" contributing to a unique, naturalistic look that's utterly timeless. Brick patios and paths also have a traditional air, and are well worth considering.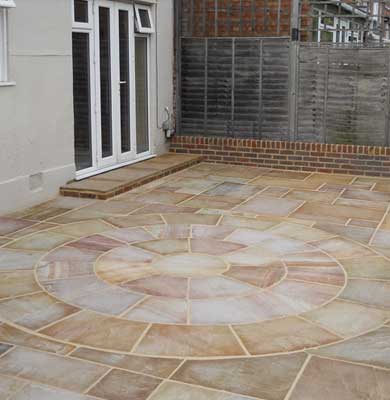 Garden Buildings
---
We construct sheds and similar garden buildings, such as arbours, arches, carports, pergolas, play houses and gazebos. Fab Fencing handles everything from the initial designs, to the groundworks and subsequent construction, entirely in house. We'll ensure the garden buildings you're investing in are tailored to your needs, whether this means maximising storage space, or creating a fun, safe environment for children to play in.
A licenced waste carrier, we ensure residents of Croydon, Selsdon, Warlingham, West Wickham and our wider area of coverage aren't burdened with a messy site or the need to hire a second waste management company once the work's finished. This goes for whether you're investing in decking, fencing or new garden buildings.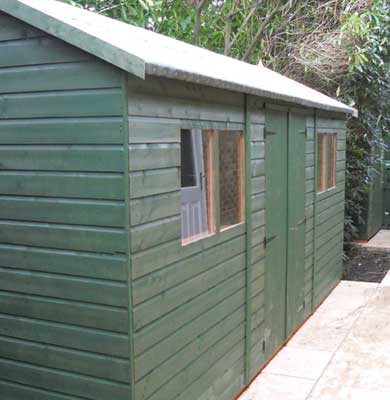 Brickwork
---
As skilled brick workers, we're also happy to construct walls, planters and raised areas that give your garden a dynamic feel, while adding a lot of quality of life functionality. We can also repoint or replace long-neglected brickwork which is showing its age.